Back to news
Geneva Lux by TukTuk or TaxiBike in Geneva – Fondue option
From the 27st of January to the 5th of February 2023, Welo offers you a special ride for the annual festival proposed by the city of Geneva: Geneva Lux!
Embark on an illuminated ride in the middle of the winter, Geneva will blow your mind. Either by electric TukTuk or by taxi-bike, you will be warm under woolen quilts, and you may even choose to enjoy a fondue (TukTuk) or mulled wine to make the experience even more pleasant and unforgettable.
Choose between a 1h, 1h30 or 2h tour, through the Old Town, the Bergues, Rues Basses, St Gervais.
We adapt the route according to your desires, do not hesitate to tell your driver if you wish to pass in Carouge or in the Geneva countryside, beyond the Geneva Lux route and according to the time available.
A unique experience to share with family, friends or colleagues, a moment out of time, to see Geneva as you have never seen it before.
Discover here the different artworks of the Geneva Lux Festival
Discover here our different tours.
In Taxibike
1h00
:
CHF 90.-
/
Taxibike
,
from 1 to 2 pers.
1h30
:
CHF 130.-
/
Taxibike
,
from 1 to 2 pers.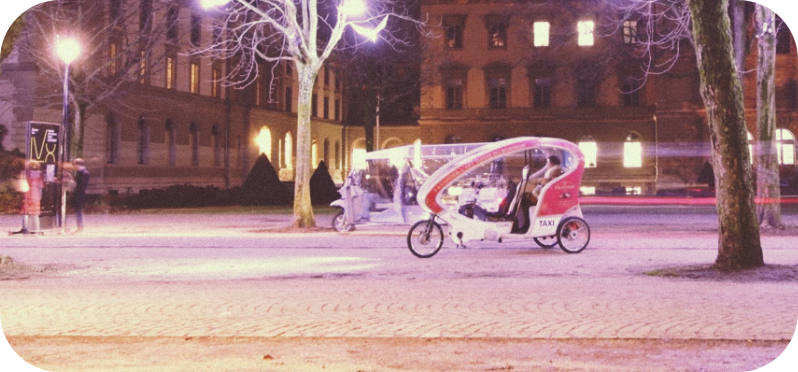 In TukTuk
1h30
:
CHF 190.-
/
TukTuk
,
from 1 to 4 pers.
2h00
:
CHF 240.-
/
TukTuk
,
from 1 to 4 pers.
Included in the walk
Ride with driver
Choice of route (Old Town, Carouge, lakeside...)
In option
Bottle of wine, fondue with goat cheese, home made mulled wine, dessert, hot tea, etc…
informations practice
Mon – Su: de 18.00 to 22.00
Vélo-Taxi: 4 people max/group. (10 people on demand)
eTukTuk: 12 people max/group – 4 people max / TukTuk – Booster seats provided for children over 5 years. – Baby seat provided for children over 9kg.
Booking 24 hours in advance or last minute by phone (depending of availability)