Back to tours
Bike Tour of Geneva
Geneva, time for a stroll!
Admire Geneva's legendary landmarks in a two-hour ride at the leisurely pace of a bicycle :
Cycling is the best way to discover Geneva at a pace that allows you to enjoy all its wonders and subtleties, riding through fantastic parks, along the Lake or the Rhone, with incredible views of the surrounding mountains.
You'll be accompanied by one of our friendly guides, happy to share his knowledge of the city with you.
Must-sees: Le Jet d'Eau, l'Horloge Fleurie, le Mur des Réformateurs.
Mythical parks and gardens: Perle du Lac, Parc des Eaux-Vives, Pointe de la Jonction.
Discover the must-sees in a 2-hour bike tour of Geneva.
This is not a private ride, and you'll have the chance to meet other bike lovers.
Departure at 10 a.m. every Wednesday and Saturday in July and August from Place de Montbrillant.
Groups of up to 12 people maximum.
IMPORTANT: Please bring your bike or rent one from Genève Roule or the Donkey republic self-service bikes ( https://www.donkey.bike/ ) in advance for this ride through the heart of Geneva.
By Bike
2h00
:
CHF 30.-
/
Vélo
,
from 1 to 12 pers.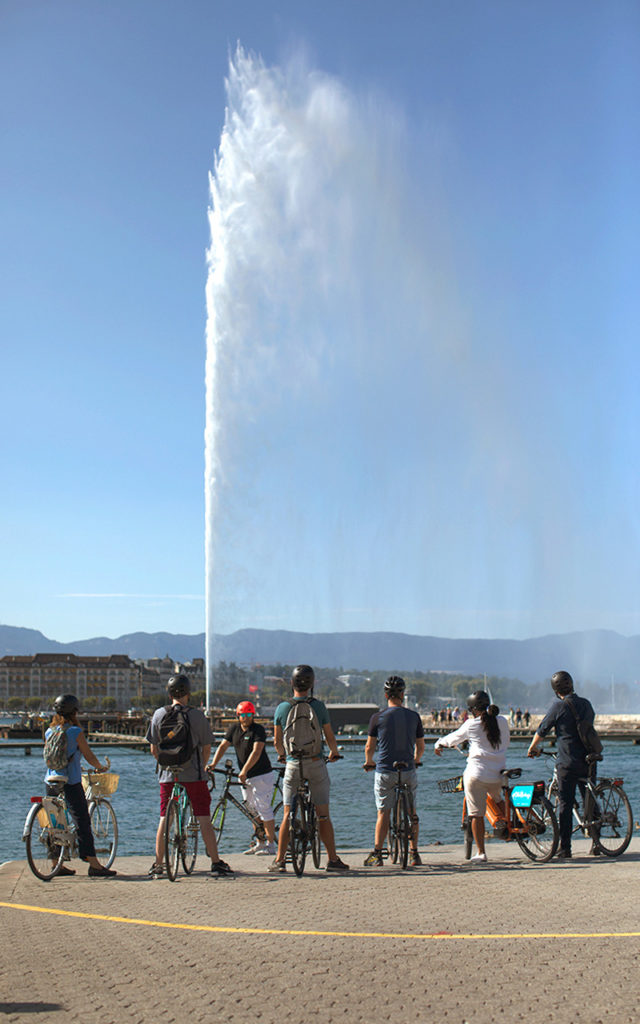 Practical Informations
– Wednesday and Saturday at 10 a.m.
– July and August
– Duration: 2 hours
– Tour of all the city's highlights
– English
– RDV at Place de Montbrillant (bike station)
IMPORTANT: each participant must already be equipped with his/her bike
(can be rented before the tour at the arcade Genève Roule – Pl. de Montbrillant 17, 1201 Geneva, 50 m from the starting point, or with Donkey Republic's self-service bikes https://www.donkey.bike/ )
Under 16s accompanied by an adult. Open to people who already know how to ride safely in a city. In the case that the guide feels that you are not able to ride safely, you will not be allowed to take part in the tour and you will be reimbursed 50% of the price of the tour.
For a group of more than 10 people, please reserve 24h in advance.