Back to news
Shuttles – Review of the HR Festival Europe 2023
Welo is proud to have supported Workday during the HR FESTIVAL Europe, the leading event for Human Resources professionals in Switzerland, which took place on March 28 and 29, 2023, in Zurich-Oerlikon.
Making a difference with our Welo shuttles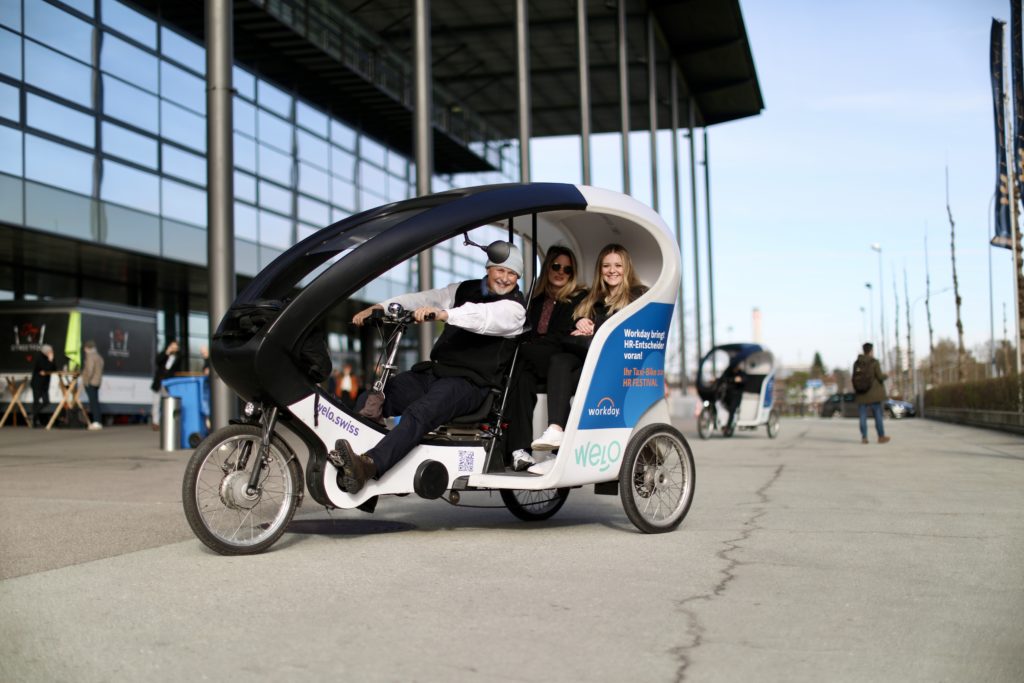 Workday had a booth at the festival and called on Welo to set up a shuttle system. The two Taxibikes covered a total of 83 km and transported 146 people, generating approximately 48,000 visual contacts.
Passersby had the opportunity to benefit from a free shuttle service from Zurich-Oerlikon station to the festival, covering a distance of 1 km and taking only 5 minutes by shuttle.
"A customizable service"
The drivers became true brand ambassadors. Indeed, they wore black and plain-colored clothing in Workday's colors to ensure a better visibility and customer experience.
The drivers also promoted the conference held by Workday, "Overcoming the shortage of qualified personnel - properly utilizing employees' skills." During the ride, they informed passengers in which room the conference was taking place, the covered topics, etc.
We also provided flyers in the shuttles and actively handed them out to visitors while explaining that they should visit Workday to enjoy a freshly brewed coffee. We strategically targeted passersby interested in Human Resources to draw their attention to the Workday booth.
At the end of the event, a summary was sent to Workday in which all the data and statistics were listed: number of people transported, kilometers traveled, age of people, visual contacts...
We are delighted to have contributed to the visibility of Workday at this important event for HR professionals in Switzerland.
For more information, do not hesitate to visit our dedicated page.